The engagement model is the framework that defines the relations between you and the vendor you chose. It helps to get the maximum from your partnership and set up the level of client control, project flexibility, and how payments are dealt with.
Before Digging In
Before choosing the way you want to cooperate with your outsourcing partner, you should sort out a few things about your project and your goals:
Scope of work

Flexibility and time-to-market

Budget

Management
The scope of work can involve simple MVP or complex solutions with ongoing maintenance. Get clear on what stage you're in and what do you expect to get from collaboration. It'll help to choose the engagement model that pans out. 
The flexibility of your project development determines whether you have an exact requirement for the project, what features must be, and how they should be implemented. Or that's all discussable and you want to have a chance to add or change them. Time-to-market is about the timeframes for development and the final date of your product release. Is it strict or floating? 
Also, you have to understand how much you're going to pay and how predictable your budget should be. And last but not least, do you have resources and competence to manage the developers' team, or do you want to delegate it and just get the final product? There is also a scenario where you have your core team with developers or managers and want to hire a dedicated team to strengthen your capabilities.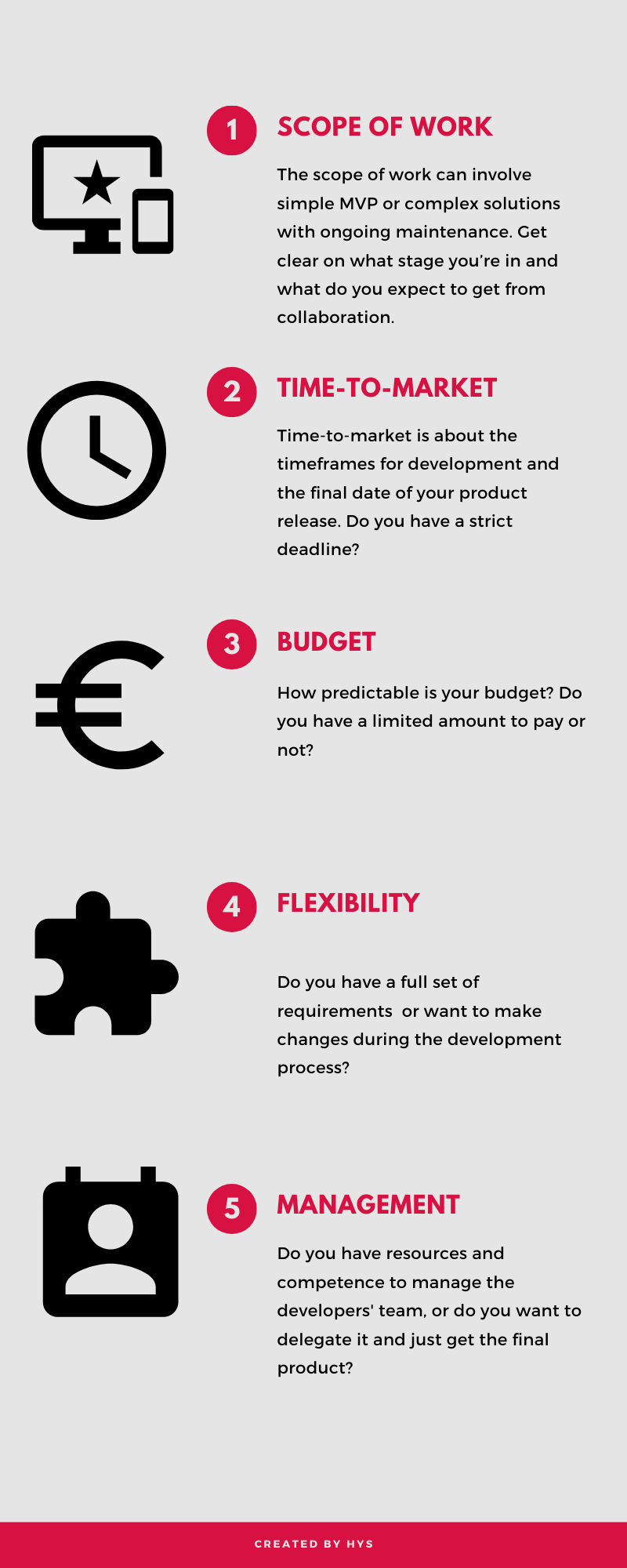 Milestones before choosing an engagement model. You can download this infografic here.
So let's assume you already know all these nuances and figure out what type of cooperation will fit you best.  
1. Dedicated team
A dedicated team means that you 'rent' the required team of professionals for your project. You can hire not only developers but also QA engineers, project managers, or designers. You can choose specialists with qualifications to fit your project best. So it gives you a lot of flexibility to create whatever you need.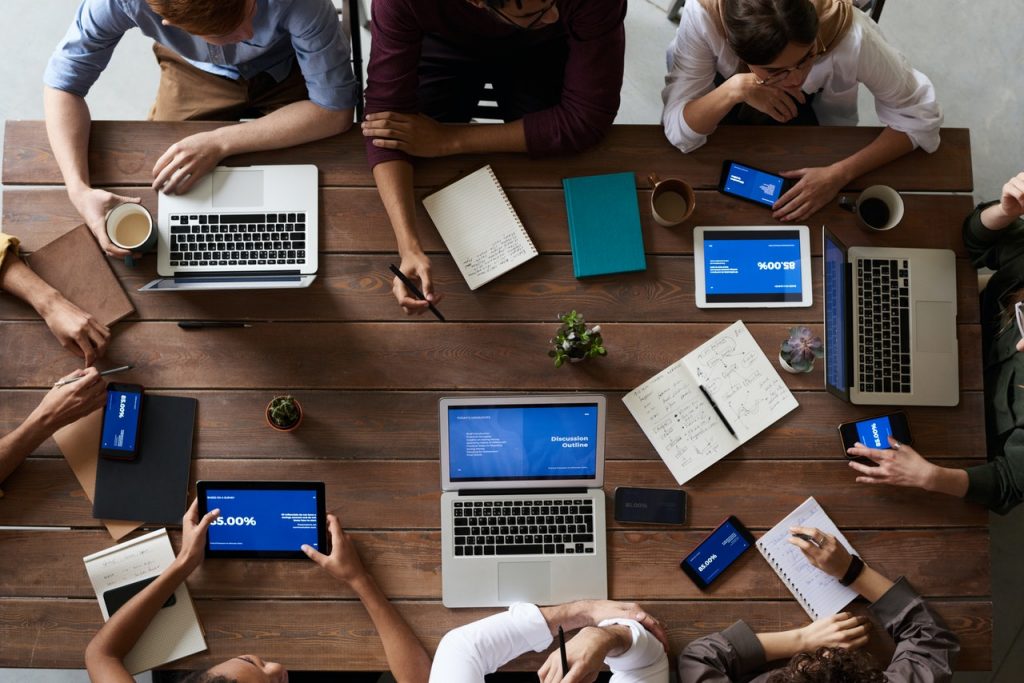 As you hire the team you define the scope of work, requirements, and development directions. It means that you should be ready to manage the team and have responsibility for your project's process. 
The plus of this model is a predictable budget. You pay a salary for your team every month and the vendor's fee. The vendor's fee includes costs on offices, hardware, HR processes, sick leaves, day-offs, etc. So you have a fully equipped team that is ready to work with you. If you need to scale up or shrink your team, you can discuss it with your vendor. It allows your project to quickly adapt to any new requirements or changes. 
What project type is preferable for a dedicated team model?
This engagement model fits for long-term projects as it offers a stable team to deliver the client's needs. The client can choose the resources and qualifications of engineers. Also, he can motivate the best performers. 

The main pros of a dedicated team are direct communication between both sides — the client and suppliers. Usually, the work process is extremely flexible and the client manages all the requirements and timelines. 

Infrastructure for development is usually on the client's side. Another plus is the opportunity to fully implement Scrum and Agile. 
Kate Martyn, PM at HYS Enterprise
2. Fixed Price
A fixed price model is a classic one where the client approves the budget and pays exactly according to it. All requirements should be discussed and agreed upon in the contract. It means that you have to know all you need for your project in advance. Transparent communication between the client and the supplier is the most significant part. It determines the scope of work you need in every detail and a fixed deadline. So the more questions you discuss with your vendor the better.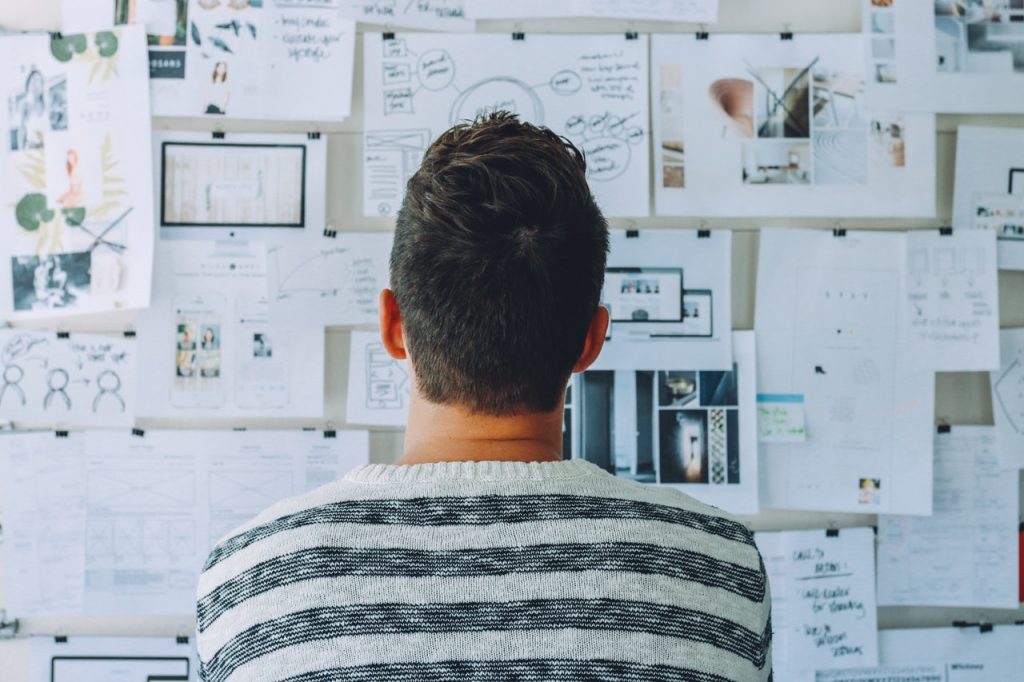 Mostly the cooperation in this model starts with setting all requirements for the project: detailed description of any feature or design. Then the Request for proposal (RFP) is prepared. It includes all specifications and details that you discuss with your vendor. Then you receive an offer of implementation with the final scope of work in detail, delivery schedule, and payment. 
Keep in mind that if you need to change requirements or have changes to your project, you'll have to get it approved in a new contract. It makes this engagement model less flexible and time-consuming. 
What project type is preferable for a fixed-price model?
On the contrary to the previous model, this one is suitable for short term projects. Requirements have to be exactly described so it takes more time for preparation before starting the project.

Everything that was not described and included in the scope could not be done without a change request. The hardest part for the client is to prepare the full set of specifications and requirements for the project. Once it's done and approved, the client can be less engaged in the development process. So the client usually knows only the price but is not aware of resources.

The cons include less flexibility because of budget limitations. Scrum can not be fully implemented. 
Kate Martyn, PM at HYS Enterprise
3. Time&Material
Time and material is a flexible engagement model where you pay only for the time developers spent doing necessary tasks. You don't have to set strict deadlines and requirements. Before start, the client shares the main idea of the product and which features should be implemented. Then it's split into user stories and estimated.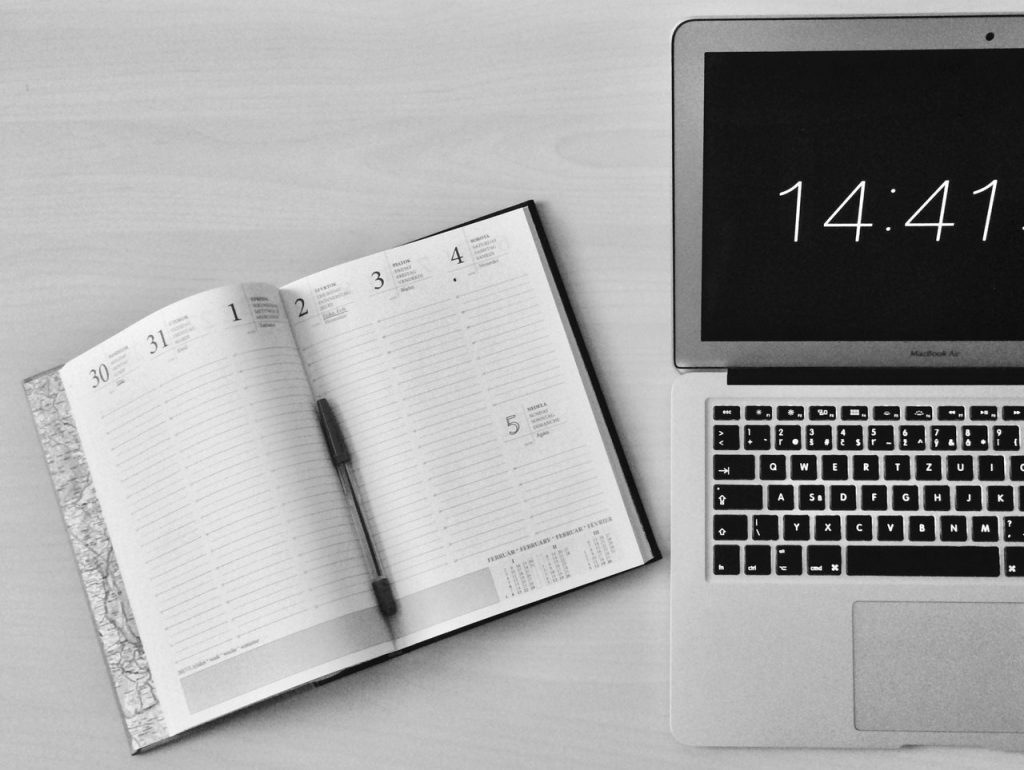 If the fixed price model needs full-scale preparation with a clear description of all product, budget, and deadline, then time and material model doesn't need it. It makes it easier to start. Also, you can change the requirements or add new features freely. The development goes in iterations and after which one you can discuss any changes you want to implement. It's a good point in the evolving market. 
If you run out of the budget, you can stop the development and get a ready product on the stage as it is. Speaking about management, you should be ready to be involved in iterations and take part in the whole process constantly. The flexibility of this model allows the team to use Agile practices such as Scrum, Kanban, etc. 
What project type is preferable for a time&material model?
The Time&Material model is preferable for midterm projects. After a ballpark, each task needs to be estimated and the client has to approve it.

There is a place for changes without finalizing the complete scope. The budget is always under control. So this one is a balance between a dedicated team and a fixed price. 
Kate Martyn, PM at HYS Enterprise
Can I change the engagement model when the collaboration is already started?
Yes, it is possible. Usually, that happens when we work with startups. They always have a certain budget to kickstart their idea, so fixed-price contracts are preferable for them. Afterward, when they find investors or collect first revenue, they look more into either a long term dedicated team or a time&material engagement. 

Another good example of where the engagement model usually changes is when the project needs to be fully finished. In this case, clients usually ask for support and maintenance of the project and the engagement model can change either to a fixed-price or time&material (monthly payments for a certain amount of hours) which is more flexible.  
How outstuffing differ from the mentioned engagement models?
Outsourcing or outstaffing – that is always a hard decision for the clients. The main difference is that the client pays for the full delivery of the project in the outsourcing model and the outstaffing means that the client pays for the employees. 

Outstaffing is a process where the client 'hires' an employee of another company to its company. It is a good decision when a client already has established good development processes or even an in-house team. In this case, he has full control over every asset of his team and on the development process. 
If you still have any questions or are looking for a team to deliver your project, feel free to ask us. We'll be happy to answer and assist you.