Nowadays we already can witness the effects of the pandemic on global and local levels. It made the bunch of businesses redefine their strategic priorities and change their approaches. According to the CoRisk-Index the manufacturing and retail industries are most severely affected by COVID-19. However, Statista research shows the size of the public cloud computing services market is increasing as well as online communication applications, such as Zoom, Cisco Webex, or Microsoft teams.
Some specialists expect high demand in IT caused digitization. But the latest release of the International Data Corporation (IDC) demonstrates that European IT spending (including software, hardware, and IT services) will decline by 4.7% in 2020.
Here we'll talk about how the Ukrainian IT sector faced pandemic, what measures were taken, and what's the result.  
1. How Ukrainian IT Faced Pandemic
Ukraine has a large outsourcing service sector. About 4,000 IT companies are expending the world market and about 1,600 IT service companies are operating in Ukraine. Since the beginning of March, all safety measures have been taken to ensure the self-isolation of employees and partners of companies. The government has introduced high-level quarantine including the closure of educational institutions, restrictions on the use of public transport, remote work, and the closure of the borders.
IT companies responded to the current situation quickly and:
Refuse of all business trips and meetings

Switch to remote work

Inform and support employees with arranging work from home routine

Complete transition to online communication
For many industries, switching to remote turned out to be a challenge. For IT companies, remote work was already a widespread practice with well-established infrastructure and optimized tools that allow for interconnected communicating between clients and employees.
HYS Enterprise had considered switching to remote mode since the start of the pandemic and was ready for this transition. All employees were informed and smoothly moved to WFH.
Now the Cabinet of Ministers of Ukraine introduced adaptive quarantine until June 22. Restrictions will be mitigated every 10 days depending on the complexity of the epidemiological situation. According to the Minister of Health of Ukraine Maxim Stepanov, now the country is at the first stage of easing up quarantine measures. The second stage has started on May 22. The following exemptions will be on June 1, 11, and 22. 
In the meantime, we continue to work remotely to ensure maximum safety for our employees.  
2. How Remote Work Affects Productivity and Workflow
Thousands of employees have been forced to go to remote work. The IT industry has had experience in switching to remote work. The possibility to work from home is one of the perks in any offer. But when all your employees must work remotely, it becomes quite a challenge. How do companies cope with that? The recent news shows that pretty good.
The possibility not to return to the offices even after quarantine is already becoming the norm for some companies. Jack Dorsey, CEO of Twitter and Square, told Twitter employees can stay at remote even after the end of the pandemic. This approach shows that effective work doesn't require sitting side by side in the office and maybe this is waiting for other tech companies in the future. 
A Gartner, Inc. survey of 317 CFOs and Finance leaders on March 30, 2020 revealed that 74% will move at least 5% of their previously on-site workforce to permanently remote positions post-COVID 19.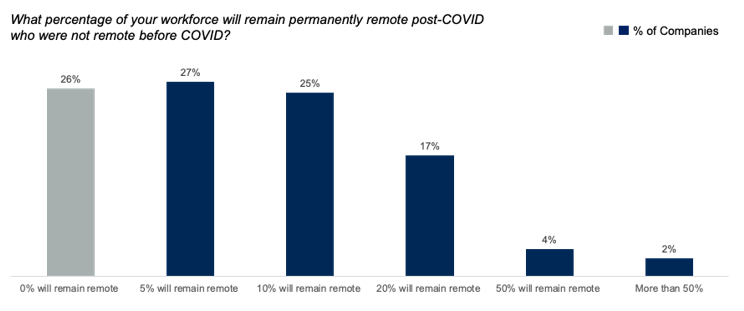 Alexander Bant, practice Vice President, in the research for the Gartner Finance Practice said:
'CFOs, already under pressure to tightly manage costs, clearly sense an opportunity to realize the cost benefits of a remote workforce. In fact, nearly a quarter of respondents said they will move at least 20% of their on-site employees to permanent remote positions.'
While WFH has become increasingly widespread, companies still face some common problems with it. They include time scheduling to synchronize teams, work efficiency, communication, stable internet connection, and skills in using tools for remote work, security, and access to the necessary data.
Thanks to the experience of remote working HYS Enterprise could switch smoothly. Our employees don't have problems with Internet connection or equipment. Now in Ukraine the telecommunication infrastructure is well developed that allows work quickly and efficiently. Also, all employees have the opportunity to work from their work computers, if there is such a need. 
Security
Security is one of the most significant aspects that must be kept in mind during the remote work of the whole company. It's important for our company and especially for our partners. To make our work secure we adhere to such a routine:
Employees have access to the company's network through a secured VPN connection, 

We monitor traffic by a firewall, 

Use security certificates and filtration policies, 

Provide special security training for all employees on onboarding and before switching to the remote. 
Communication
Daily scrum meetings via Skype or Zoom became a usual routine. But it's important not only to track productivity but also to encourage and give feedback to each employee. 
Our team doesn't feel discomfort from remote work. Video calls perfectly solve the communication problem. We were ready for the fact that we would have to work from home. 

I can advise all teams leads to paying more attention to close communication with the team. No one should feel detached. This will allow the team during the transition period not to get bored and keep pace.'
                                                                                         Alexander Prygun (.Net Team Lead)
Various online activities at the company can help employees feel onboard during the distancing. HYS Enterprise launched online webinars for knowledge sharing and online training to stay healthy at home. Also, employees can discuss with a psychologist what their problems and thoughts to find out how to cope with anxiety. 
This approach to the remote mode gave positive results. After 2 months of WFH, our teams showed high productivity. We not only maintained office dynamics but also accelerated some processes. So we are ready to take new projects and help businesses in digitalization. In the current situation, it is necessary to adapt to, so many companies are actively developing online performance. We can help you to deliver your projects, from a mobile application to the website or some kind of integration.
Summing up
IT industry experiences a lot of challenges caused by the pandemic. One of them is switching to remote working. Ukrainian IT companies took all precautionary measures to keep their employees safe and comply with quarantine. It'll continue till June 22.
Extended remote mode made tech companies all over the world to redefine their approach and consider WFH even after the end of the quarantine. To make it possible, they should establish clear infrastructure and particularly turn attention to security and transparent communication. Due to relevant experience with remote working HYS Enterprise has adapted to the changes quickly and delivered high-quality results. Our teams have a high-speed Internet connection and a full set of all necessary tools and equipment to keep working effectively.